Story Showcase: Issuu Stories to Enjoy and Inspire
Our community of Issuu publishers are a constant source of inspiration for our developers, engineers, product team and more. So, we launch new features and products to empower our publishers with tools for enhancing their storytelling experience. Watching our publishers and creators utilize Issuu Stories is always exciting. It might even delight your team too! 
Issuu Stories maximizes distribution
A quick browse through the Issuu app for iOS and Android showcases the most interesting Article Stories. Successful Stories are curated at the top for easy discovery. On Issuu, Article Stories are the perfect format for long-form text heavy content. Therefore, the Article Story ensures your content is optimized for display on tablets and mobile.
Create Article Stories, from the Issuu Publisher workspace. Maximize headlines and photos and enjoy expanded reach through distribution on Issuu.com, the Issuu app, Issuu's Apple News Channel and more. Then, engage entirely new audiences with your content by grabbing their attention with Article Stories. For example, Bello Magazine highlights and mobile-optimizes their recent interview with actress Javicia Leslie with Article Stories. See to the right.
Visual Stories that stand out
We've been watching the transformation of social media with the Stories format. So, we are excited by the power social media Stories have for engaging audiences.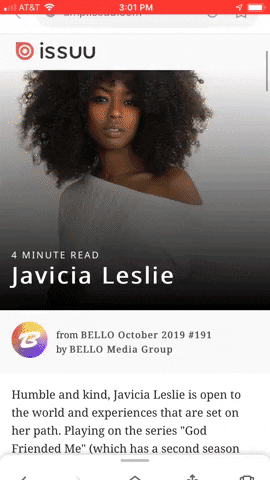 Social stories are a foundation for companies, brands, and creators  to produce meaningful content that better communicates with customers, brand aficionados, and potential clients. Giving our creators the ability to convert their high-quality content into Stories for social media not only gave us intention, but also drove our excitement behind the Visual Stories product.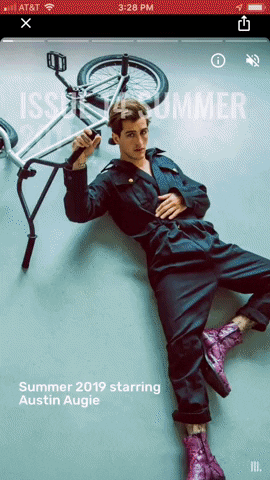 Now, immediately after uploading content, you have the option of creating a Visual Story to share. Select content to highlight, choose a Visual Story template and click the "Preview" button.
Once ready, share the Visual Story on your favorite social media platform, copy the AMP link, or post to your website. The captivating Visual Stories produced by our publishers impress us. Including this one by Man of Metropolis to promote their issue release. See left.
Break through with Visual Stories
How do you break through in a crowded social media news feed? Artists, architects and individual creators turn to Issuu for showcasing their portfolios and projects. Now with Visual Stories, you can convert portfolios into a multimedia experience shareable on Instagram, Facebook, Snap and more. Build your following with Visual Stories! Even Architecture Portfolios, like that of Baltazar Acuña Csillag stand out with the Visual Story format. See below left.
Maximize guides and lists with Visual Stories
Gift guides and top product lists receive premium engagement, whether it's for an upcoming holiday, or an end of year roundup. Additionally, Visual Stories turn the standard list into an animated Story showcasing the featured products and text. Then creators share their Stories seamlessly on Instagram, Facebook or Snap. Don't worry about needing expert design or coding skills. For instance, LAND Magazine tapped into the power of Issuu to create an Article Story of their 2019 Holiday Gift Guide. Issuu Stories seamlessly turned their guide into the social media Story format to increase the distribution of the content to current readers and new.
AMP up every Story
To keep Issuu's publishers at the forefront of digital publishing, Issuu leads the industry in enabling content creation with powerful AMP (Accelerated Mobile Project) technology. Alone, the AMP process is complicated and requires engineering and development support. We make AMP technology accessible for all of our publishers. So, Issuu built the code straight into the Issuu Stories product. Now all of our publishers create AMP Stories with the click of a button.
Additionally, for increased freedom, AMP Stories are hosted on the wider internet and not tied to one social media platform. AMP Stories can even show up in the Google top stories carousel for wider distribution. For example, publishing this article from DEZINE Magazine as an AMP Story increased viewership of both the article and the entire publication. See below left. 
Pin it to last
Stand out on Pinterest with a visually engaging and animated Video Pin by sharing your Visual Story. Videos are quickly finding success on Pinterest as it is a highly visual platform where content lasts. Since Pinterest content is evergreen, unlike other social media channels, posts are always searchable and relevant to users. Thus, posting your Visual Stories to Pinterest assures you will drive engagement throughout the year and even longer. Flood Magazine attracts music lovers, celebrity content seekers, travel aficionados and more. How? So, one way is by posting a Visual Story of their recent interview with pop star Carly Rae Jepsen on Pinterest. See above right. 
Issuu is for Storytellers
Storytelling is important for all of us. As the media landscape evolves and formats change, thoughtful stories leave their mark. Therefore, Issuu is focused on delivering these important Stories to as wide an audience as possible and in the right digital format for each reader. Issuu enables brands, companies, publishers and more to create once and share everywhere.